SLEDSASK NEWS
This is our Snowmobile Fatalities page. Here you will find information on Snowmobile related fatalities and more.

SNOW FACTS
There are approximately 2.3 million registered snowmobiles in North America. 63% of snowmobilers usually trailer their snowmobiles to go ride. 37% either snowmobile from their primary residence or have a vacation home where they keep and use their snowmobiles. The average snowmobiler rides their snowmobile 1,102 miles per year. Approximately 88% of all active snowmobilers are male; 12% female. Approximately 18% of all snowmobilers are part of the Senior Circuit – 60 years or older and 37% of all snowmobilers are 50 years or older.

SAFETY TIPS
Don't travel alone - Ride with a buddy.
Always let someone know where you are going and when you will return.
Use check-in - check-out stations if they are provided.
Always ride on the right-hand side of the trail.
If riding in the mountains, check with local officials for avalanche warnings.
Always be prepared for the unexpected. Carry basic emergency and survival equipment, tool kit, spare parts and extra gas.
Make sure your snowmobile is licensed.
Purchase a trail permit if you plan on riding on trails (if required).
Remember - Don't Drink and Ride!!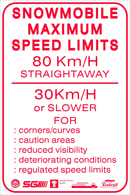 SASKATCHEWAN SNOWMOBILE
FATALITIES
WINTER of 2016 to 2017>





Despite all the snowmobile training and warnings,
there are still snowmobile related fatalities each and every year.

We at SLED-SASK are not trying to be morbid with the info you will find on this page.
But rather provide you the user with information related to improper usage of snowmobiles or snowmobile related accidents causing deaths.

Below you will find maps (courtesy of Google Maps) with info snowmobile related fatalities.



Snowmobile fatalities in Saskatchewan - 2016 to 2017 Snowmobile Season

NONE SO FAR AS OF DECEMBER 29/2016 for the 2016-2017 Snowmobile season. Lets keep it that way!!
WELL we didn't get through the first half of the 2016-2017 Saskatchewan snowmobile season without a snowmobile death unfortunately.

December 31, 2016
A 47-year-old man from Saskatoon is dead following a snowmobile accident...>
Reported by Saskatoon StarPhoenix.
Read More Here



Snowmobile fatalities in Saskatchewan - 2015 to 2016 Snowmobile Season

February 8, 2016
Stanley Mission woman dies after snowmobile crashes into rock.>
Reported by Saskatoon StarPhoenix.
A woman is dead and another is in the hospital after the snowmobile they were riding crashed into a rock along the shoreline of a bay in Stanley Mission.
Read More Here



January 6, 2016
Missing man, 31, found dead next to snowmobile.>
Reported by CBC News.
A 31-year-old man from Katepwa Beach, Sask., has been found dead close to his home and next to an overturned snowmobile.
Read More Here


Snowmobile fatalities in Saskatchewan - 2014 to 2015 Snowmobile Season

January 17, 2015
Two teens dead following head-on snowmobile crash.>
Reported by Global News.
Two teenagers are dead following a head-on snowmobile crash east of Southey on Friday evening. .
Read More Here



November 13, 2014
Snowmobiler who went through ice found dead.>
Reported by The StarPhoenix.
A 66-year-old man died after falling through the ice on a river near Peter Lake while snowmobiling.
Read More Here



Snowmobile fatalities in Saskatchewan - 2013 to 2014 Snowmobile Season

March 15, 2014
Saskatchewan man, 36, dead after B.C. avalanche.>
Reported by CBC News.
A 36-year-old man from Lloydminster, Sask., died in a backcountry avalanche off B.C.'s North Thompson Valley Friday night.
Read More Here



January 14, 2014
The missing snowmobiler has been found dead near Kelvington.>
Reported by NewsTalk650.
Dennis Malischewski, 59, was last seen on his sled in the town of Kelvington last Saturday.
Read More Here



December 21, 2013
While traveling, the snowmobilers hit a ditch that they did not see>
Reported by The Prince Albert Daily Herald.
The 49 year old male driver was from Strongfield, Sask. After the accident, the male was unconscious and not breathing and was deceased upon arrival of EMS.
Read More Here



November 12, 2013
Man drowns after snowmobile falls through ice, RCMP say.>
Reported by CBC News.
A man has drowned after his snowmobile broke through the ice on a lake near Grandmother's Bay, north of La Ronge.
Read More Here



Snowmobile fatalities in Saskatchewan - 2012 to 2013 Snowmobile Season

March 26, 2013
Snowmobiler dies after crashing into coyote.>
Reported by CBC News.
The Estevan man, 67, had been out with a group on his snow machine Monday when he turned a corner on a trail and hit a coyote, the RCMP said.
Read More Here



November 19, 2012
Snowmobilers death under investigation.>
Reported by The StarPhoenix
RCMP are investigating the sudden death of a snowmobiler in northern Saskatchewan.
Read More Here



December 09, 2012
Fatal snowmobile, SUV crash on Highway 16.>
Reported by Global News
First Posted: Dec 09, 2012 9:02 PM
A Saskatoon man is dead after a highway collision between an SUV and a snowmobile outside of Saskatoon this afternoon.
Read More Here



Snowmobile fatalities in Saskatchewan - 2011 to 2012 Snowmobile Season

March 23/2012
Saskatchewan man also killed in Wainwright accident.>
Reported by CBC News
First Posted: Mar 5, 2012 3:15PM
2 snowmobile crash victims planned to marry.
Read More Here



March 5/2012
Snowmobile accident claims man's life .>
Reported by David Kirton
First Posted: Mar 5, 2012 11:43am
A snowmobile accident at Greenwater Provincial Park has claimed the life of one man.
Read More Here



January 8/2012
White Fox snowmobile accident kills man.>
A 20-year-old man has died in a snowmobile accident south of
White Fox, Sask., on Friday night, according to RCMP. Police gave few details
about the incident, except to say the man was the only person on the snowmobile when it crashed.
Read More Here

View Larger Map



Snowmobile fatalities in Saskatchewan in 2011
A number of people have been killed in snowmobile collisions in Saskatchewan during 2011.


View Snowmobile fatalities in Saskatchewan in 2011 in a larger map
Clicking the above link opens in a new page with detailed info



Snowmobile fatalities in Saskatchewan 1995-2011
A map showing snowmobile fatalities in Saskatchewan from 1995 to 2011.
All information is provided by Saskatchewan Government Insurance (SGI).


View Snowmobile fatalities 1995-2011 in a larger map
Clicking the above link opens in a new page with detailed info

















WARNING!!
Watch out for Silage Bags!!!






WARNING!!
Watch out for Electric Fences!!!






WARNING!!
Use Extreme caution on ice!






WARNING!!
Use Extreme Caution when Snow Plows are out!!









SNOWMOBILE SAFETY TIPS

Don't travel alone - Ride with a buddy.

Always let someone know where you are going and when you will return.

Use check-in - check-out stations if they are provided.

Always ride on the right-hand side of the trail.

If riding in the mountains, check with local officials for avalanche warnings.

Always be prepared for the unexpected. Carry basic emergency and survival equipment, tool kit, spare parts and extra gas.

Become familiar with your snowmobile before going on extended trips and make sure it is in good operating condition.

You should always wear adequate winter clothing, protective goggles and even sunscreen.

You should always wear your helmet.

You should always make sure your snowmobile is in good running order. Including LIGHTS!

Never cross frozen lakes and streams without checking the ice thickness first.

Watch the weather. Winter storms can set in very rapidly, resulting in white-outs leaving a rider disorientated.

Try to keep yourself in good physical condition.

When fueling your snowmobile, Be careful! Spilled gas can irritate and cause bare skin to freeze.

Remember - Don't Drink and Ride!!





SNOWMOBILER CODE of ETHICS

I will be a safe snowmobiler and a good sportsman.

I will use my influence to promote safe snowmobile conduct.

I will respect the rights of other people's property.

I will not damage living trees, shrubs, or other natural resources.

I will not litter or pollute trails, camping areas, public property, streams or lakes.

I will lend a helping hand if I see someone in distress.

I will be available to assist search and rescue parties.

I will not harass/abuse other snowmobilers, hikers, skiers, snowshoers, ice fishermen or other types of winter sportspeople.

I will respect {see above} their rights to enjoy our recreational facilities.

I will not harass wildlife and will avoid areas posted for the protection of wildlife.

I will know and obey all provincial, federal and local laws regulating the operation of snowmobiles in areas where I plan to ride.

I will be a good sportsman and safe snowmobiler.

I will obey all posted signs.

I will not ride under the influence of alcohol.

Author - the Unknown Snowmobiler



Click Here for Hand Signals









Custom Search